Kiosk of Vintage Games
With our Kiosk of Vintage Games, our wandering peddlers offer an array of games of skill, strength, spirit and ability. They melt into the crowd, create a gathering and pose challenges. One moment they're here, the next they're out making merry in the crowd. They rouse the public and embark on all kinds of playful experiences.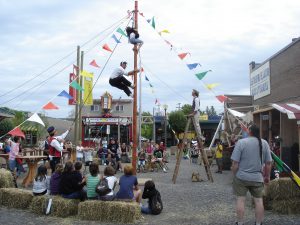 Some Games to (Re)Discover
Japanese Billiards (Europe), a throwing game of balls on a plank, strongly in vogue in the fairs of the 19th century;
Sjoelback (Netherlands), Dutch shuffleboard;
Tops and spinners of the world;
Tower of Hanoi, a game of speed and logic for a fun challenge
Button spinner;
Bilboquet;
Ring toss.
Entertainment Format
Within a light and malleable décor, the spectator discovers a multitude of games of old. To enhance the experience, our famous 'Greasy' Pole often accompanies the Kiosk of Traditional Games.
COME ONE, COME ALL, TRY YOUR LUCK!
-Original Idea and Staging: Christophe Meunier
-Original Music: Claire Lafrenière
Downloadable Documents:
Forthcoming
For more information :
Make a request
Duration :
4h of continuous entertainment (fixed and/or wandering)
PUBLIC :
Familial
Crédits :
– Original Idea and Staging : Christophe Meunier
– Original Music: Claire Lafrenière
Downloadable Documents:
Coming Soon
For more information :
Make a Request