The Circus "Ludiqu'art" Workshop
Custom-made fun circus entertainment for your events!
Participation based circus events, carnival events, multidisciplinary programming for your resort or festival, Le Moulin à vent Productions creates a concept of tailor-made activities for your site.
Several clients, in Montreal and in the regions, entrust Le Moulin à vent Productions with their participatory and family entertainment components in the circus.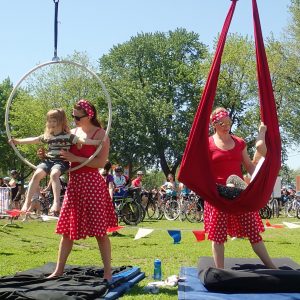 2017/2018/2019: MONTRÉAL/COMPLETE CIRCUS DISTRICTS
During the last 2 editions of the Montreal Completely Circus Festival Le Moulin à vent Productions provided the participation-based entertainment component in the neighbourhoods. No less than 4 activity programs were offered to the public and thousands of children, adolescents and adults were able to explore them (balance courses, manipulation of objects and juggling, the Giant Steps and the famous attraction the Flying Machine).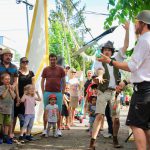 2017: MONTREAL'S 375th/ CIRCUS IN THE ALLEYS
From May to September of 2017, Le Comité, a cooperative that offers design services for social innovation purposes through a collaborative approach, called on Le Moulin à vent Productions to implement a program of circus workshops every Saturday in 19 boroughs of the city of Montreal, as part of the 375th birthday of Montreal.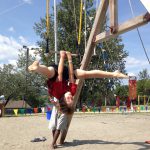 2014: LOWER SAINT LAWRENCE/ HOLIDAY CENTRE
From June to August 2013, Pohenegamook Sante Plein Aire, a vacation and event centre located on the shores of Lake Pohenegamook called on Le Moulin à vent Productions to add innovation to its summer program. Circus lessons were offered daily for the whole family and two evenings a week an old-fashioned carnival was mounted.
The circus entertainment component is supported by our traveling circus school: Ludiqu'art Circus School.
Have a project? Call us!