World Sport for All Games: Mission to Portugal in June 2021!
CANADA'S DELEGATION WILL BE CARRIED BY LE MOULIN À VENT PRODUCTIONS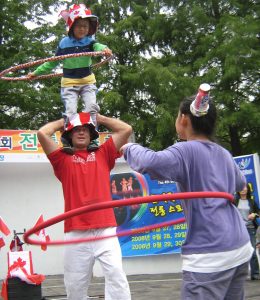 12 years after its first participation in the World Festival of Traditional Games and Sports in South Korea (4th Busan TAFISA* World Sport For All Games/Photo opposite), Christophe Meunier, director of the organisation, is proud to announce that Le Moulin à vent Productions has been selected to represent Canada at the nest edition of this international meeting from June 8 to 24, 2021 in Portugal (7th Lisbon TAFISA World Sport for All Games).
* TAFISA is the leading international sport for all organisations, with over 320 members in more than 180 countries. It is recognized by and actively cooperates with the International Olympic Committee (IOC), the United Nations Educational, Scientific and Cultural Organisation (UNESCO), and the World Health Organisation (WHO

.
TRADITIONAL GAMES AND SPORTS REVISITED AND "ENCIRCLING"
The disciplines proposed by Le Moulin à vent Productions will be included in the official program of the event, during the different thematic days and opening and closing ceremonies.
Among the traditional disciplines, Le Moulin à vent Productions has chosen to offer two of its star attractions in Quebec: the COCKAIGNE POLE and the GIANT STEPS carousel (human-powered carousel).
As far as new disciplines are concerned, the company will present its main acrobatic attraction: the FLYING MACHINE. Demonstrations and participative activities will take place there: Russian Swing, Flying Barrel, Human Woodpecker…as well as other challenges from Canada's playful heritage.
A CALL TO THE NEXT GENERATION OF CANADIAN SPORTS AND ARTISTS: FIRST NATIONS PEOPLE OF CANADA AND ALL TOGETHER!
For Le Moulin à vent Productions, traditional games, sports, and circus arts are eminently inclusive activities. They create encounters, encourage exchanges, and promote intergenerational and intercultural sharing.
This is why Le Moulin à vent Productions wishes to integrate into its team the talents of young people (18 years and older) from across Canada (including First Nations, Métis, and Inuit) who practice traditional games, sports, or related activities in their community.